Caroline Calloway is eating caviar to celebrate raising $30,000 for first responders
Plus: Longhorns Coach Herb Hand on wings, RiceARoni, and love
Photo: Kathleen O'Neil
Since moving into her grandma's condo for quarantine, Caroline Calloway has posted a seemingly endless stream of food pictures to her Instagram. Avocado toast. Salad. Sweet potatoes. More avocado toast. More salad. More sweet potatoes. Rinse. Repeat.
But last week, on the day Caroline released her long-awaited response to accusations her erstwhile best friend Natalie made in The Cut, food was notably absent from her Instagram page. So I figured I'd ask her if she ate anything special to celebrate releasing the essay—and raising $30,000 for COVID-19 first-responders in the process. And friends, Caroline👏Calloway👏did👏not 👏disappoint.
"I'm worried that by telling you this, I'll be cancelled a third time," she said, before revealing that, a few hours after her essay dropped, she walked to the grocery store and brought back blinis, crème fraîche, and two tins of sturgeon caviar.
"I don't know anything about caviar, but it was the most expensive," she explained, "so I chose it."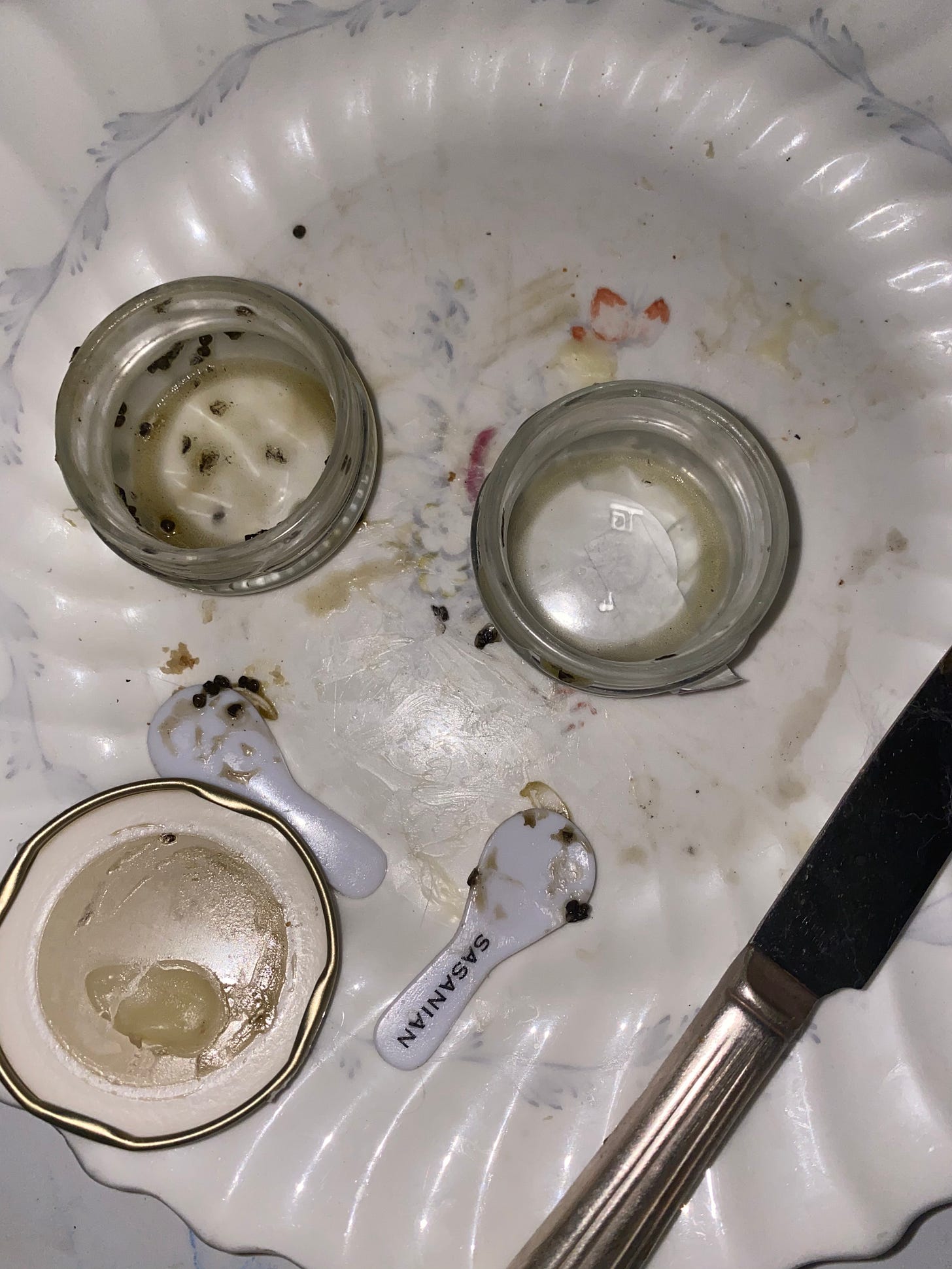 She also bought a large stick of truffle salami. "If it makes it any better," she clarified, "I stocked up on other essentials like coffee."
Even Nero, who played the fiddle while Rome burned, would bow at the altar of Caroline's ability to remain bougie in the face of tragedy. And Marie Antoinette would have no choice but to respect Caroline's hustle.
"Let them eat cake" is so 18th century. We live in the world of "Let them eat caviar" now. And while Marie couldn't survive one guillotine, Caroline has been cancelled twice—and she's still standing.
If you want to cancel her a third time, be my guest. But ask yourself: If you raised $30,000 for charity in a week, are you sure you wouldn't be eating caviar, too?
Here's what else she's been eating—and how to cook it:
How to turn your canned sardines into a beautiful salad
Caroline: I love sardines tucked in olive oil and parsley and lemon and garlic. If you make a salad with some bougie lettuce—like, nice lettuce—like, lettuce that looks like it could be in a Dutch still life—you toss that with just olive oil. And you put the sardines on top. You don't even have to cook them. So you're done. It's been 30 seconds. It takes longer to explain how to make this dish than to actually make it.
What a typical day of eating is like for Caroline
Caroline: Mainly, I like to snack on the bones of my trolls and the heads of my haters, but when I'm not eating that for breakfast, lunch, and dinner, I try to eat a pretty plant based diet.
Avocado toast. Handful of nuts for a snack. Walnuts, pecans, and almonds. Lunch is a giant ass salad with arugula, basil, heirloom tomatoes, and garlic hummus. Dinner will be like three mangoes and a sweet potato with butter.
Since I'm at my grandma's condo, all of the food I did not bring in myself from the grocery store has been here since the 1950s.
Pictured: Mango Chutney that expired in 2015.
So as long as I don't buy myself sugary snacks, I don't have the option of binging sugary snacks.
I've been buying a lot of produce from Jessica's Stand in Florida, so shout out to Jessica.
How she makes her avocado toast
Caroline: Pour the olive oil on the bread before you put the avocado on, otherwise it won't sink in. Otherwise, chili flakes, salt, pepper to taste.
Usually I eat two slices of bread per day. Sometimes I eat four.
Editor's Note: Put some lime juice in your avocado toast, Caroline!
The secret to the papaya snack she keeps posting to Instagram
Caroline: It's papaya, banana, and a pinch of sea salt. Sweet and salty.
Make sure they're refrigerated before you slice them, because if it's cold, get the fuck out of here.
How she decides what food to post
Caroline: I feel an obligation as a public figure to provide support for people, whether it's in the form of entertainment—to distract them from the news—or working out and giving them some motivational reminders to keep their body healthy during quarantine. And posting about food on Instagram started as a way to remind people to eat vegetables.
So far, I have an amazing track record of going to the grocery store and buying a shit ton of nuts, fruits, vegetables, and whole grain bread, and the occasional nut butter and caviar. So I just had a bunch of healthy food and I saw an opportunity to intersperse my daily content output with little reminders to eat healthfully. I thought that was another small thing I could contribute at this time.
I actually posted all of my food for the first three weeks of quarantine. Every single thing I put in my mouth, I posted. And right now, I've gotten in enough of a habit that I'm still eating healthfully. But in order to raise money, I just have to post the article. So there's not going to be a lot of food content.
How to buy Caroline's essay—and provide health care workers with PPE
Caroline: We've raised over $25,000 in the past 36 hours towards getting doctors face masks and we're looking toward a goal of $50,000 over the next three weeks. We're on day one and a half, and we're halfway there.
I'm really passionate about what we're doing. And 100 percent of the proceeds of this website go towards the donation. I paid for the web design out of pocket. None of the money goes anywhere else, except toward Direct Relief, which is the charity giving health care workers in the U.S. personal protective equipment.
So, yeah, you could donate directly to them, but if you go through my site, you'll get at least 45 minutes of solid, petty internet drama. And who can ignore a bargain like that? Everyone needs a distraction right now.
Editor's Note: Caroline has now raised more than $30,000 for Direct Relief. You can buy her essay at iamcarolinecalloway.com. You can send your donation straight to Direct Relief by clicking this link.
How to make Nature's PB&J
A few days after Caroline and I spoke, I saw a text from her appear on my phone with one word: "EMERGENCY," accompanied by this image: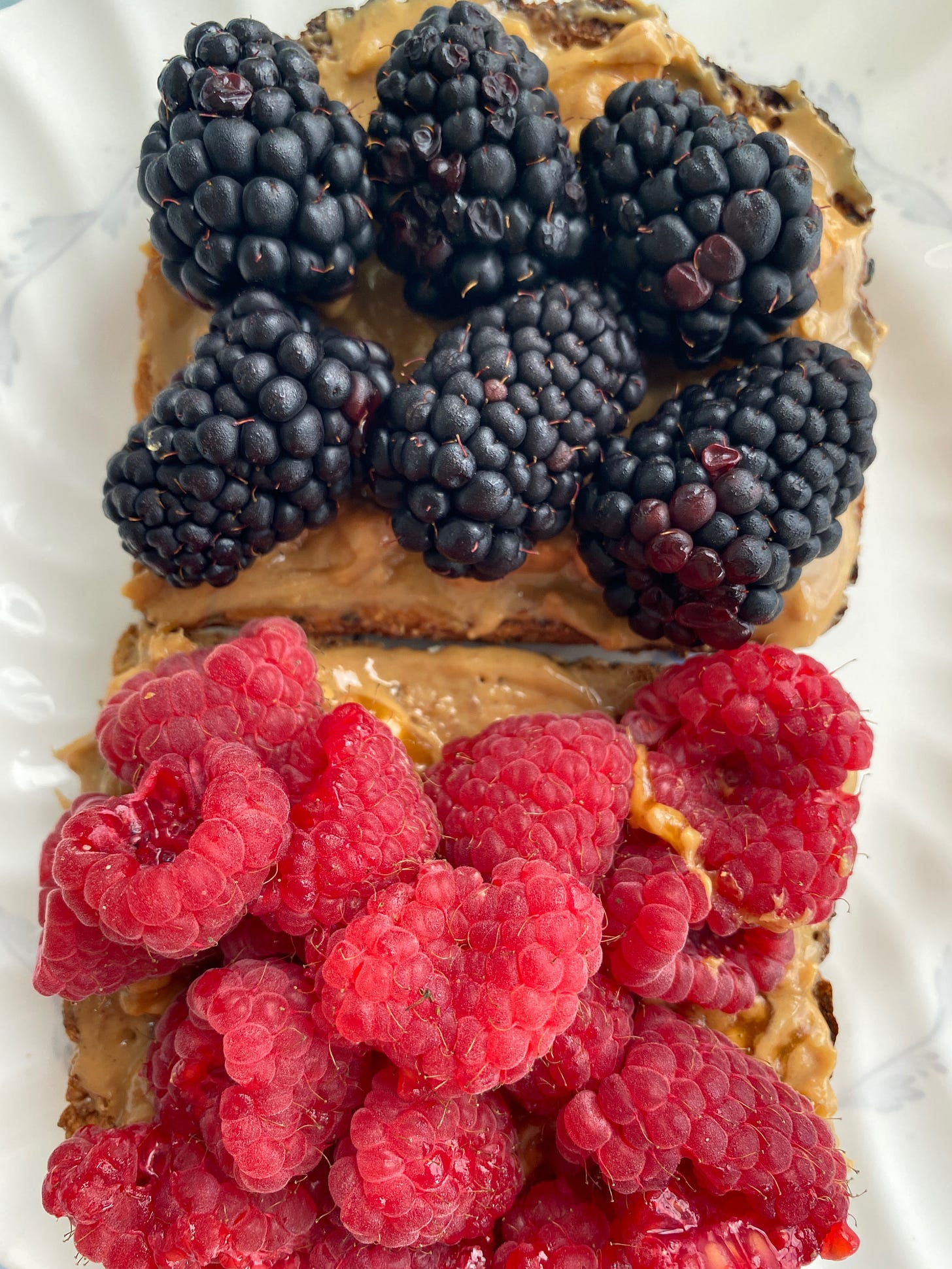 And then, she texted me the recipe for what she calls "Nature's PB&J," which I've included below:
When I asked her follow-ups—favorite bread, favorite peanut butter, favorite berry—she said: "Use what you have on hand. JUST DON'T FORGET THE HONEY!!! People forget the honey sometimes and those people are GOING TO HELL."
"John Mulaney would be able to adlib something better than this," she added, "but I'm not John Mulaney."
Homecooking Hacks from University of Texas Coach, and Former Chopped Contestant, Herb Hand
Herb Hand and my dad weren't supposed to be friends—and not only because they met on an airplane, where you're more likely to be elbowed by the person next to you than strike up a conversation with them. As Coach Hand puts it, "Your dad's a northeastern atheist liberal, and I'm a transplanted southern conservative Christian."
"And yet," he continues, "We're friends. Because even though we don't agree on everything, we have a common humanity."
Turns out, they also have a common love of food—and when my Dad tagged me on Twitter after seeing a video of Coach Hand cooking wings on Twitter, I knew I had to have him on the newsletter.
Here's how he makes his wings:
Coach also posted an entire video dedicated to wing sauces, including ingredients ranging from hoisin to Frank's RedHot:
After Coach Hand released these videos on Twitter, he received a call from the team nutritionist. "Hey, we really like the wing video," they said, before asking the co-offensive coordinator and offensive line coach if he could post something more "educational" for the school's players—a healthier dish, maybe, that they could make "on a college athlete's budget."
That inspired Coach to post a video tutorial for his signature "chicken, broccoli, RiceARoni deal," which you can watch here:
More than any ingredient, he says that the key to cooking is to "put a little extra love in there." That, he explained, "is what makes it taste good."
When I asked him for workout tips, he said "the first thing is you gotta do something." And, he added, you need to "develop a solid routine every day, cause it's so easy to get up and not shower, and that's bad business."
Before hanging up the phone, he suggested that I watch this video from Jocko Willink, in which the retired Navy Seal explains what we can all learn from Bill Murray's character in Groundhog Day:
Did you hear the man? Find some ice, and start sculpting.
Volunteer To Help Seniors!
Last week, I received an email from an organization called Umbrella, which is delivering groceries and medication to seniors across the country who can't leave their homes because of the novel coronavirus. They told me their demand has grown exponentially over the last few weeks, and they need volunteers who can shop for elderly neighbors.
Follow this link if you're up for it. It's an excuse to leave the home while STILL being a good person. As our president likes to say about potentially toxic drugs: What do you have to lose?
I've also been talking to an organization called Mon Ami, which is doing a similar thing. Here's the link if you want to help them out, too.
Bobby Flay's Short Rib Recipe
Perfect, he says, for the holidays:
HALLIE MEYER IS POSTING VIDEOS TO INSTAGRAM OF HER NOW FAMOUS "TWO POT PASTA METHOD"
Remember when Hallie Meyer changed the game on this newsletter with the Two Pot Pasta Method? If you haven't read that interview, you should; that is, if you want your pasta to look like this:
🎄Radicchio & leftover lamb onions 🍖🧅🥬
pomodoro on insta live right now 🍅 tell me which pasta-live you want next
brocc 🥦 in live right now
In recent days, Hallie has been posting Instagram Lives, in which she demonstrates how to use the Two Pot Method to make everything from aglio olio broccoli to cacio e pepe to pomodoro. Go to her page and watch these videos immediately.
How better to end a Caroline Calloway newsletter than with some noods?
Until next time...