Everything you need to know about cooking at home, with the Godins
I hate BuzzFeed titles, but in this case, I think it might be justified?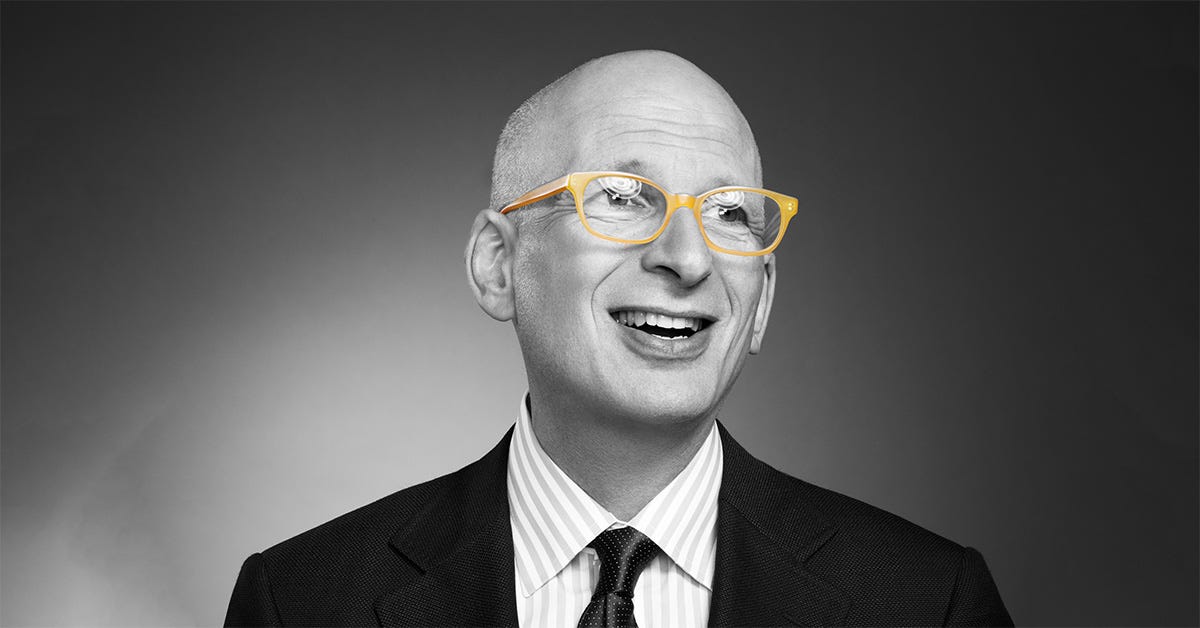 I've eaten a lot of meals in my life—somewhere around 26,826—but I have to say, there's nothing like dinner at the Godin home in Hastings-on-Hudson. As soon as you walk through the door, and manage to fend off a dog the size of a wolf, you're blitzed with food: Gravlax they cured in their fridge. A loaf of bread as good as any you've eaten, baked by Seth Godin himself. Dips, cheeses, and crackers that would make Martha Stewart's coffee table seem as uninviting as Martha McSally's.
When dinner starts, you're already full. But then you see Seth's roasted carrots, which make you understand, for the first time in your life, why they're Bugs Bunny's favorite vegetable. You eat Japanese sweet potatoes, which are somehow as creamy as they are crispy. Maybe he'll serve a Korean noodle dish—or perhaps he'll whip up sundubu-jjigae.
You'll encounter flavors you've never tasted before—and ones that take you back to Proustian moments in your past you thought you'd forgotten. And then, just as the meal is concluding, you'll remember that Seth's wife, Helene, owns By The Way Bakery and is a connoisseur of confections. Suddenly, the table is blanketed with cookies, cakes, and cupcakes—most of which, miraculously, are dairy free, gluten free, and [mic drop] kosher. Sometimes, she'll even make a cake with your book cover on it!
You eat the desserts, you keep talking, and then, in a final act of whiplash, more items suddenly appear on the table. Occasionally, it's cups of coffee, which Seth brews masterfully, even though *he doesn't drink caffeine*. One time, after we'd finished a plate of almond cookies, Seth pulled out a tube of oshinko. Who knew pickled radish from Japan was the perfect way to close out a feast?
Every generation improves on the one before it—Don Jr. notwithstanding—so naturally, Seth and Helene's children, Alex and Mo, are even better chefs. If you are ever blessed with the chance to go to Alex's apartment in Park Slope, you will watch a man cook half the Superiority Burger cookbook in around two hours, with the help of a propane wok that may or may not be legal in the five boroughs. Mo, meanwhile, lives outside of Lake Tahoe, and while I've never been to his abode, rumor has it he's the best cook of them all.
What's most remarkable about dinner at the Godins', though, isn't the food you eat, but the way you feel when they're serving you. Like at Olive Garden, when you're dining with the Godins, no matter who you are, you're family.
This, Alex explains, is the product of decades spent eating family dinner every night; and this staple of his childhood is what inspired Alex to start one of my favorite non-profits, Lemontree. In normal times, Lemontree's mission is to serve family dinner to low-income New Yorkers—but as I mentioned in the Hallie Meyer newsletter, Alex is now focusing one hundred percent of his efforts on recruiting volunteers to address shortages at food banks in New York City.
Keep reading to find out more about how you can support Alex's work—and to learn what it takes to cook dinner at home like the Godins.
This interview covers A LOT of terrain, from how to make a perfect pot of rice to how to make a loaf of "rye bread for the ages" to the virtues of Kewpie Mayonnaise, yuzu kosho, and Burlap and Barrel spices. More than basically any other issue of this newsletter, I think you're gonna want to read this one.
So I'll let the Godins take it from here:
How the Godins Spice Up Quarantine Cooking
Seth: One of the challenges of buying things online during the year or during quarantine is that you are hurting the livelihood of the backbone of your local main street. However, if you go to Burlap and Barrel for your spices, you're hurting no one, because they sell things you can't get from anyone else, and the spices at Burlap and Barrel—they're still delivering—are worth every penny they cost, and they are a secret ingredient available to anyone.
Editor's Note: Here's the link to buy spices from Burlap and Barrel.
Alex: I will say, my quarantine has been brought to you by Burlap and Barrel. The cumin is a game-changing cumin. The turmeric is next level. And I like the Urfa chili, the silk chili, and the cobanero chili.
Seth: I'm going to agree with Alex on the chilis. I don't have any expectation that the turmeric is next level; it's just turmeric. But the story that comes with each—because they're getting it from the grower, him or herself—and just like Askinosie Chocolate, another plug for what you can buy online—they're able to, by leaving out four layers of middlemen and a year and a half of storage, get you a better product at a better price, and get the grower a lot more money.
Alex: I think that Mo has the best pantry of the Godins right now. Mo is setting the pantry bar.
Mo: I have a five-plus year history of pissing off roommates with weird cooking gadgets, since I moved out of my family home, whether that be in college, when I bought an industrial deep-fryer, or this year, I have numerous Japanese condiments: yuzu kosho --
Alex: Mo is big in the yuzo kosho game.
Mo: It's delicious. It makes everything taste better. It's a great condiment.
Editor's Note: Here's a link to a solid yuzu kosho brand, approved by Mo.
Helene: If it's really from Japan, it takes everything up a notch.
Mo: I've also recently gotten into mala spice, on the food side, a lot of spicy condiments from China.
Editor's Note: Here's a link to buy da hong pai Sichuan pepper from Mo's favorite purveyor. The full ma la kit is sold out, but they expect to stock up again in May.
Mo: Unlike the rest of my family, I don't live in an urban metropolis, or near one. The closest city is Reno, which is not known for its produce markets. So I order a lot of ingredients online. I ordered Kewpie mayonnaise on Amazon, as you do when you don't have access to a Japanese market. And I get the package in the mail, and there's a rip inside it—so it's an empty package, clearly the mayonnaise has fallen out.
And so I had to call Amazon for an exchange or return. And so I'm on the phone with this employee from Amazon, and she says, "what was the product that fell out of the package?" And I couldn't bring myself to say "mayonnaise" over the phone, so I said, "Kewpie," and she said, "Do you mean mayonnaise?" And there was so much judgment in her voice. It was magical.
Why Homemade Rye Bread Is the Perfect Supply Chain Resilient Food
Seth: I want to talk about supply-chain resilient food for a minute, if I could. So, I feel like the quarantine is primarily about time, in the sense that, if the quarantine only lasted an hour, no one would have noticed. And what the quarantine is doing is causing people to shift their expectation of time. And if you're going to do that, it feels to me like fermentation is your friend. So what you want to do is produce things that you don't want to rush, because they will work better if you don't rush them. And with that said, yes, you can ferment and cure fish. But that's a problematic supply-chain item, and an endangered species on top of it. So I would rather focus on rye bread in the following way:
It is possible to make a rye bread for the ages using only three ingredients: rye flour, water and salt. And if you have anything else at home, that's fine, but if you try to make it in less than three days it will fail. And the beauty of a three-day rye bread is that you've actually done something with your time, not just squandered it watching TV on Netflix.
Editor's Note: Seth posted the recipe for his rye bread, pictured above, to a special page on his blog. You can find it here.
Helene: And it's even better if you get walnuts at the market.
Seth: And dried cherries.
Alex: And while we're talking fermentation, a plug for Sandor Katz and The Art of Fermentation.
Seth: True that.
Helene's "To The Left" Approach To Baking
Helene: Just to sort of add onto that, here's my story about what to do when you have time: When I was first thinking about opening a bakery and teaching myself how to bake, I took the Beyoncé approach. Which was, I took out all my ingredients, and I put them on the right side of the counter. And as I added them to the bowl, I moved them to the left side of the counter. "To the left, to the left."
And then, when I was done, I put it in the oven, and if I turned around and there was still one item on the right side of the counter, I knew I had screwed up. The good news is, if you follow my method, you will know what the problem is. And right now, you have time to make it again.
How To Make Baked Goods Without All Purpose Flour
Helene: So we have a cookie that's made with almond flour. We have these amazing almond flour honey cookies. And they just happen to also be dairy-free and vegan.
READ: Recipe for Helene's almond cookies, which are astonishingly good.
Seth: And if you can't find almond flour, you can make your own.
Helene: Right, you can take almonds and grind them in a food processor. As long as you don't keep doing it and end up with almond butter, it works great. It's actually better.
What Alex and Mo Have Been Cooking—and How To Make It
Mo: I think my philosophy when it comes to cooking is, the burner is either on high or off. And so the idea of the low-and-slow simmer or the long fermentation process is not really my mentality. So I use a lot of ingredients, but very quickly.
I've been doing a lot of Mexican fried rice. So kind of a play on fried rice, you use a day-old rice, keep it in the fridge. Always make twice as much rice as you need, put it in a Tupperware, put it in the fridge. The next day, you're going to make fried rice for breakfast, it'll be delicious.
And then use a little chipotle in Adobo sauce, some peppers, onions, mushrooms. Fry it up. Throw it in a burrito, grill it. Delicious.
Editor's Note: Mo says La Morena is the best brand for Adobo sauce—and you can find it in most markets near the Goya products. If you want to make it at home, this seems like an easy enough recipe.
Alex: What I think is unique in some ways to our family, and my childhood, is that every night growing up we had Family Dinner. And during the quarantine, I feel very connected to that tradition and that routine.
And I've been cooking meals that are so reminiscent of the things that we'd eat growing up. Like, on Wednesday, I made the tofu recipe that we used to eat once a week growing up.
Editor's Note: The tofu recipe he's referring to can be found in the glossary of Seth's 2001 book, "Survival Is Not Enough: Shift Happens." Seth includes very specific instructions like, "Spray the pan with a Misto (or a can of Pam) filled with a blend of half sesame oil and half olive oil," but Alex says the directions are even simpler:
"Take firm or medium firm tofu out of the fridge, press it for like 20 minutes, fill your pan with some oil (whatever kind) over medium heat, cut tofu into slices and put in pan. Cook it till it softens. Then, crank the heat as high as it will go. Dump some soy sauce on top. When the tofu is caramelized and your house smells great, it's done."
Alex: And this afternoon I made a batch of French fries for lunch, which was like a classic Sunday lunch Godin move. And we have done Zooms and phone things, but just cooking those staples has been really like going back to the dinner table.
The importance of learning how to cook rice
Seth: I would like to contribute a cooking tip in memory of my mom. Which is, I think it's important that people use this moment to learn to make rice; to learn to make rice properly. What you can do every day for lunch is, you can have a rice bowl. And a rice bowl consists of a perfectly-made cup of rice with various toppings that you are reusing from the morning. But so many people are afraid of rice. Don't be afraid of rice. Learn to make rice.
Helene: And then, make twice as much so you can have fried rice for breakfast.
Seth: I learned how to make rice from Ms. Royee Chen, and it was a mystery to me until she taught me. Step one, often overlooked: rinse your rice. You don't need to rinse it under running water, though. You have to put it in a bowl, swirl it around with water, and then drain it a couple times until you have rinsed rice.
Then what you do is you take a pot that has a lid that fits. You put in one cup of rice. If it's white rice, put in just over a cup of water. You need more water for brown rice. Maybe two cups. You then turn the stove on until it boils. The second it boils, you turn it to its lowest temperature, you put the lid on, and you leave it there until it's done. You do not stir it. You do not look at it. You just leave it there until it's done. Or, for those of you who this is causing concern, buy a rice cooker for $39, and you will never have a rice problem ever again.
Alex: I will say that my rice tip is that if you make beans, preferably Rancho Gordo, with aromatics, dried beans, then you can use the water from your beans—your pot liquor, if you will—to make your rice, and you end up with an insanely flavorful bowl of rice at the end. You can mix in the beans after you've cooked the rice, and have the world's best rice and beans.
Mo: I don't think there's anything else on my end. My brother's love of bean water is enough.
Alex: Dayenu.
Why you should sign up to volunteer at a food bank at InItTogether.NYC
The food system is incredibly robust. It's pretty incredible that besides all-purpose flour, supermarkets still carry everything that we need. And just like the institutions that exist to feed those of us who have enough money to go to the grocery store, there are also institutions that are able to feed folks who can't afford to shop right now.
And it's truly incredible watching these organizations step up, and feed millions and millions of people, as job losses and other real tragedies take hold. At the same time, those organizations are built on the back of volunteer labor. In order to be as efficient as possible, the food pantries, soup kitchens, and food banks all rely on volunteers, and it's truly terrifying watching as those volunteers dry up.
We're talking to folks who mainly rely on senior citizens or corporate groups to volunteer—both of which don't show up anymore, and so in the last month, more than 100 pantries in New York City have closed, while demand has skyrocketed.
So one thing that folks can do, is they can go and volunteer. And the best way to find an opportunity to find an opportunity to volunteer in New York City is to go to inittogether.nyc.
JOSE ANDRES IS POSTING THE BEST VIDEOS ON THE INTERNET
The man is cooking dinners with his kids while listening to Hamilton songs—and directing donations to the organizations that need them most. (The best part is: None of the dishes take longer to cook than it takes to listen to one (1) song from Hamilton.) If you haven't yet seen these videos, I am so honored to introduce you to the best content on the internet:
Tonight

#RecipesForThePeople

@WCKitchen

is for the women&men of Broadway, the ones in theater industry hurting right now. Go to my amigo

@Lin_Manuel

site
teerico.com
& support them...Buy a shirt! We're cooking leftovers: Brisket&eggs...It's not pretty but pretty good!
DO NOT SHARE YOUR STARTERS
You heard Seth Godin: You can make your own Rye starter. So there's NO REASON AT ALL why, according to Eater, people in San Francisco are LEAVING STARTERS ON TREES TO SHARE THEM WITH ONE ANOTHER IN THE MIDDLE OF A GLOBAL PANDEMIC. As my sage boss, and buddy, Ben Krauss put it in a Slack message to me: "This is the anti-vaxxing of baking."
I have done my fair share of weird things for a good loaf. In fact, I once brought Tartine country bread with me on a plane flight from San Francisco to Boston. But guess what? Tartine! is! still! open! So if you live in SF and want to go hard on bread, maybe you should consider ordering it from the best bakery in the world—or making your own damn starter.
Money doesn't grow on trees. Bread shouldn't either.
Until next time...