How to Make Cheesy Focaccia, And How to Transform Your Restaurant into a Wholesale Pasta Company, with Karen Akunowicz
Plus: Lessons on Lentils from Beantown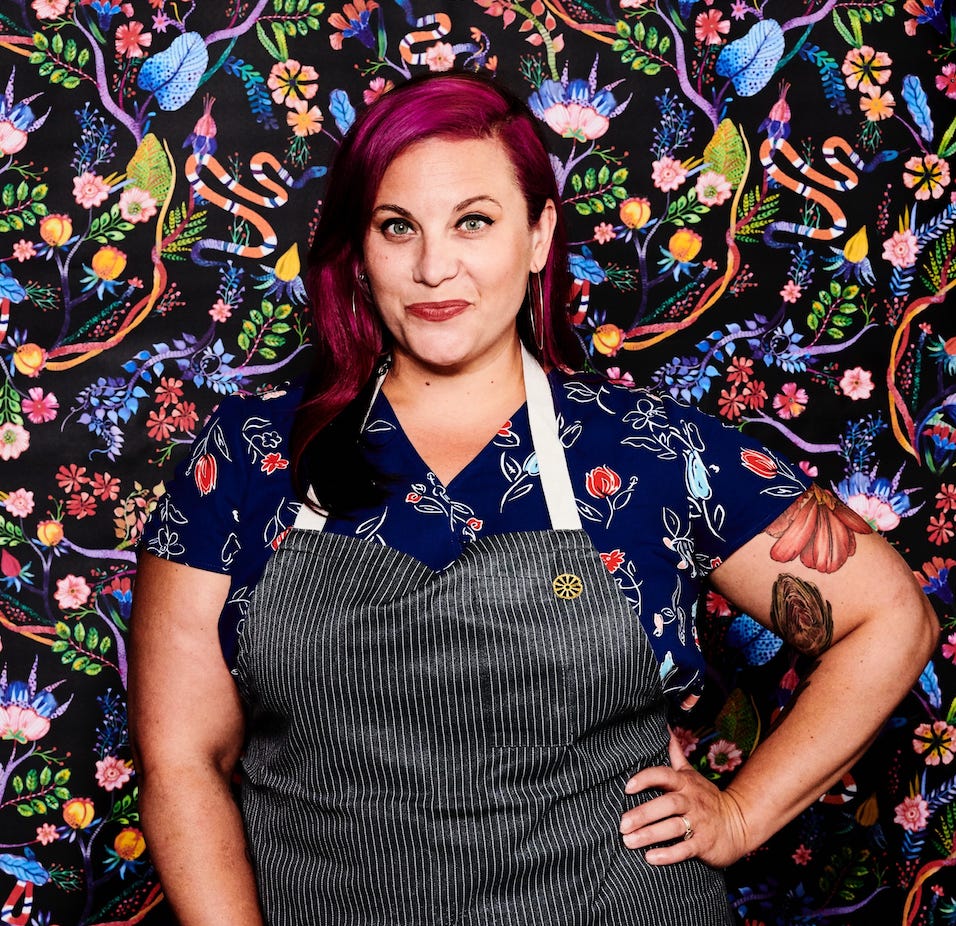 Photo credit: Kate Grewal
New Yorkers aren't exactly known for admitting when we're wrong. (See: Trump, Donald; de Blasio, Bill.) But today, I am going to apologize for a paragraph I wrote in one of last week's newsletters, in which I claimed Boston had only two redeeming qualities. (No, I didn't even include Ben Affleck's performance in The Town.) Why the reversal? Because, a few days after I maligned Beantown, my friends reminded me of the meals we ate at Myers+Chang, forcing me to concede that Boston has at least three things going for it. 
When I lived in Boston, Karen Akunowicz was the Executive Chef at Myers+Chang, which was one of my favorite restaurants. And the year I moved back to New York, my palate was vindicated when Karen received the highest honor in cooking, winning the James Beard Foundation Award for Best Chef in the Northeast. 
For most of us, a victory like that might have been a reason to take it easy for a while. Turns out, you don't become Karen Akunowicz by taking it easy. So, the next year, she left Myers+Chang when she was at the top of the cooking world—like Michael Jordan in '93, hanging it up to go play baseball. Except, unlike Mike, her next chapter was even better than her first. 
In 2019, Karen opened Fox & the Knife, which is by all accounts one of the best new restaurants in the country. And over the last few weeks, Karen told me, as Boston has shut down, Fox & the Knife has become far more than a place to eat. Now, it's a wholesale pasta company by day, which is making it easier for thousands of Bostonians to cook at home, and a takeout restaurant by night. 
Somehow, even as she runs two businesses, and works 16-hour days, Karen is still finding some time to cook at home. And in today's newsletter, she shares her tips for how to make meals that can last you the whole week with whatever you have in your pantry. 
Plus: She reveals the recipe for her famous Taleggio Stuffed Focaccia—or, as she calls it, "the cheese pull heard round the world."
ICYMI: Yesterday, Beto O'Rourke shared recipes on the newsletter—and talked about why we should all be donating to food banks like El Pasoans Fighting Hunger. Check it out.
RECIPE: Taleggio Stuffed Focaccia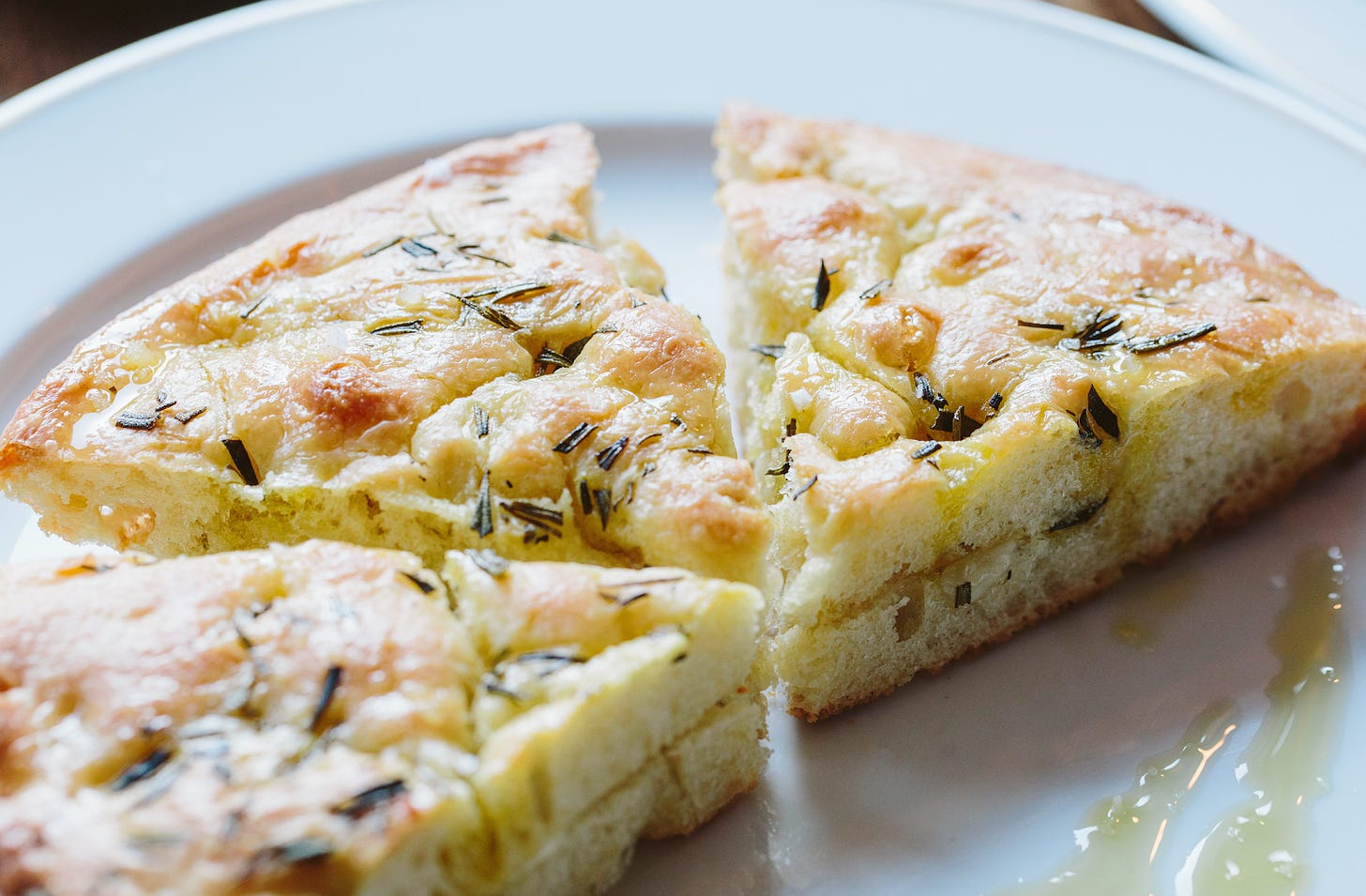 Photo credit: Brian Samuels
Karen: People are baking a lot right now, so I thought this might be a good recipe to share. Here's the backstory on it. 
I knew that I wanted to serve focaccia at Fox & the Knife, I just wasn't sure exactly how. Did we bake it on sheet trays and cut like Sicilian pizza? Did we shape it in individual loaves for each table? When I finally moved into the restaurant space, I found we had inherited a LOT of pie pans and I needed to make use of every little thing we had. We opened with a small budget and needed to keep it that way. I knew immediately we would bake the focaccia in those pie pans. I originally wanted to top it with stracciatella but as we tested it over and over, I knew that it wasn't quite right. Finally the idea came to fill it with a strong yummy cheese, and taleggio was a perfect foil for the focaccia, but it didn't have that cheesy pull-ability I wanted. So I added mozzarella and our focaccia was born! 
Preheat oven to 425 degrees
Pro tip: Have a plastic bench scraper handy
Yields two focaccia rounds
Ingredients:
14 oz warm water

7g active dry yeast (also equal to one packet of red star yeast or similar brand)

13g sugar

480g AP flour

120g bread flour

13g salt

4 oz evoo

2 T chopped rosemary

6 ounces taleggio cheese

4 ounces shredded mozzarella

Extra olive oil for drizzling

1 Teaspoon Maldon or sea salt
To start, combine yeast, warm water, and sugar in a pitcher and whisk a bit to help dissolve sugar/yeast.
Add flours and salt into a stand mixer bowl and mix the flours and salt with your hand until evenly distributed. Fit the stand mixer with the dough hook and add the water mixture and oil to the bowl. Start the mixer on low. As it mixes, scrape down the bowl halfway through mixing. Make sure to get down all of the sides and towards the mound at the bottom of the bowl. This is where flour likes to live and it needs to get absorbed into the dough. 
Continue mixing on low until dough is thoroughly combined. Increase speed to medium and mix until dough is smooth and soft. If it is a little too wet add a touch of flour, but be careful not to overdo it. Turn the dough out onto a lightly floured work surface and fold the dough once to the left and once to the right. Then, flip over so seam is on the table.
Divide dough in half with a bench scraper, and loosely shape to a boule. Place each piece of dough in a pie plate oiled with olive oil. Add one tablespoon of chopped rosemary to each dough.
Next, dimple the dough with the tips of your fingers thoroughly through the whole pan making sure to pop any large bubbles. Add 3 tablespoons of olive oil to the top of the dough and lightly dimple again to incorporate the rosemary. Slide the pie pans into the pre-heated oven and bake for 25-35 min rotate halfway through, checking often during the last 10 min of baking. T
The focaccia should be completely golden brown—make sure to check the bottoms of the bread for doneness. Cool completely in pan, and then turn out onto a cookie sheet. When the focaccia is completely cool, slice evenly through the equator and add 3 ounces of taleggio and 2 ounces of shredded mozzarella to one side. 
Place on a cookie sheet and bake in the 425 degree oven for 8 minutes. When you pull the focaccia out sandwich the halves together and cut into 6 or 8 slices. Drizzle with good olive oil and top with Maldon salt. 
What she cooks when she's at home
Karen: I am actually only home two days a week, because I'm still at the restaurant so many hours a day cooking. But my spouse went out and did a little bit of grocery shopping. And then I went out last Sunday. And I'm lucky—I have a local grocery store, kind of at the bottom of my street. Family owned. They were still pretty well stocked, with the exception of eggs and chicken. 
I know there's a tendency to be like, "Okay, I'll just goldfish crackers all day." I think that could be part of the reality. But we're more focused on how we can take whole foods and turn them into something that we can use and then use again.
I buy a lot of carrots, onions, potatoes, lots of dark leafy greens. We make a lot of soups and we freeze them. 
That means making a lot of vegetable stock or something like that, and saying, "Okay, we can use this, we can heat up fregola in this, or we can heat up pasta, or rice." And we're cleaning out our cabinets, as well. 
We always have a ton of lentils in our cabinet. We always have a ton of, like, rice and grains and things like that. So we're kind of cleaning that out and making those, and doing things like cooking off a ton of leafy greens, cutting off a ton of rice, steaming vegetables, steaming broccoli, and then putting them together in different ways as the week goes on.
How Karen Makes Food Healthier as the Week Goes On
Karen: If you're making pasta one night—maybe you're just making pasta and tomato basil sauce—then the next day, maybe you're adding broccoli, you're adding dark leafy greens, kale or Swiss chard or something like that, and bulking it up with vegetables. 
That way, the next day, you've gone from having a meal that is primarily a starch, and then the next day maybe it's more vegetable, less starch, but you're still utilizing that pasta sauce. So taking the same thing and sort of adding more nutrients, as the week goes on, to it. 
I think another great thing to utilize, whether they're canned or whether they're dried, are beans. At the restaurant we're soaking chickpeas and cannellini beans, borlotti beans, and making soups and adding them to pastas. And I think that's a great way to get nutrients and to get protein, and to utilize something that is inexpensive. It could be used in a lot of different ways. The other day I made a smoky tomato and chickpea soup with a ton of spinach in it, and smoked paprika, lots of mirepoix, and you could easily turn that into a pasta sauce the next day.
How to make your beans exciting
Karen: You could soak a ton of chickpeas or soak a ton of white beans and then use them or cook them off the next day, hold them in your refrigerator and use them for three different preparations. You can make hummus out of that. You can make a white bean dip out of that. You could then use it in a soup, you can use it in a pasta sauce, you can use it in a stew. 
ICYMI: Bobby Flay shared his hummus recipe on Cooking in Quarantine.
There are so many different things that you could do with beans. You cook take chicken or, you know, whatever protein that you're using, and cook that pasta sauce with beans alongside the protein in the oven. Put a little parmigiano reggiano on top, maybe some breadcrumbs, and you've created a chicken bake or something like that. 
You know, I think those are great ways to utilize a product more than one time, especially something like beans or chickpeas, or white beans, or borlotti beans.
How she makes lentils—and turns them into tacos
Karen: My spouse is vegetarian, so we cook a lot of vegetarian food at home, and lentils are something that, in the same way, I'll just cook a big pot of them and then we'll utilize in different ways throughout the week. So making lentil tacos is one of the things that's our favorite. Instead of using meat, you can use lentils. They're super satisfying, they're delicious. And that's a great way to utilize them in a way that is not a soup or something like that. 
You know, it's great to eat it at breakfast; put an egg on top of them. Lentils are something that I always have in my cabinet, that I think is a great staple, especially when there's sort of like nothing else in the cabinet. You could do a lot with them.
I cook them like you would pasta. I bring a large pot of water up to a boil. When it's boiling, I add the lentils. I'll add a bay leaf, some garlic cloves, some olive. I just simmer them until they're soft and drain them through the colander. And then I reserve them, and whether you sauté or bake them, it's really simple. It doesn't take a lot of time or a lot of effort. And then you have them for the week.
How Her Restaurant Transformed Itself For Quarantine
Karen: We actually flipped my restaurant kind of on a dime and created two businesses. So we are running, basically, a wholesale pasta company called Fox Pasta Boston, open 12-4 every day. We're selling house-made ricotta, pints of three different kinds of sauces, three different kinds of fresh pasta, olives, giardiniera, sliced prosciutto and all of that kind of stuff.
Part of that was saying, "How can we continue to feed people?" And knowing that people are at home, and people are cooking, we were asking ourselves: "How can we kind of encourage that?"
We are doing takeout at night, from four to eight, but during the day, we're completely selling out of, like, 36 pints of ricotta. Like, a hundred and fifty sauces. 75 pounds of pasta a day. The response has been overwhelming, because people are taking those and they're cooking with them at home. 
It's been amazing to see everybody's pictures. You know, people are posting, like: "Here's the before and after; "Here's the meal that I cooked with it;" "I took a third of the ricotta, and I put it on top of the pasta;" or, "I made pasta and the next day I put ricotta on top of my pancakes." Or whatever it is. So we've seen this beautiful response from people who are taking home our sauces and cheeses. 
Why you should support No Kid Hungry (if you can)
Karen: Right now, with so many kids out of school, there are children who depend on school breakfast and school lunches, and they're not getting those meals. And I think that is one of the most heartbreaking pieces of this pandemic: There are so many children who are losing out on those critical meals that they received five days a week, whether it's breakfast and lunch. No Kid Hungry is working hard to make sure those young kids are fed.
Editor's Note: Donate to No Kid Hungry here. 
Help Junzi Feed The Health Care Workers on the Front Lines
10 days ago, I featured Junzi's Lucas Sin on this newsletter—and he dropped knowledge on how to make spam slap and why you should try putting ketchup in your fried rice. It's one of my favorite issues. So if you missed it, go back and read it. 
Anyway, since then, Lucas has been delivering meals to first responders across New York City. So if you want to help restaurants, and all of the nurses, doctors, janitors, and hospital staff working to keep us healthy, smash the link and support Lucas.  
Stanning Shallots
I know it's not unique to exalt Alison Roman—especially since she's been dubbed "the domestic goddess of the apocalypse" by The Cut—but I do want to shout her out for tipping me off to the wonders of shallots, the only food sweeter than candy that seems like it might still be healthy. 
Here's Alison's famous caramelized shallot pasta recipe, which is the bomb dot com, as the kids say. And I also made this (very!) simple shallot jam this week from Food & Wine, which I've been putting on everything—and also eating directly out of the container. (Alison, come on Cooking in Quarantine!)
Shallots have lived in the shadow of the onion and garlic for far too long. Today, we must stand together and declare, loudly and clearly, that when it comes to alliums, shallots are supreme. 
Until next time...